Boys Basketball Schedule 2021-22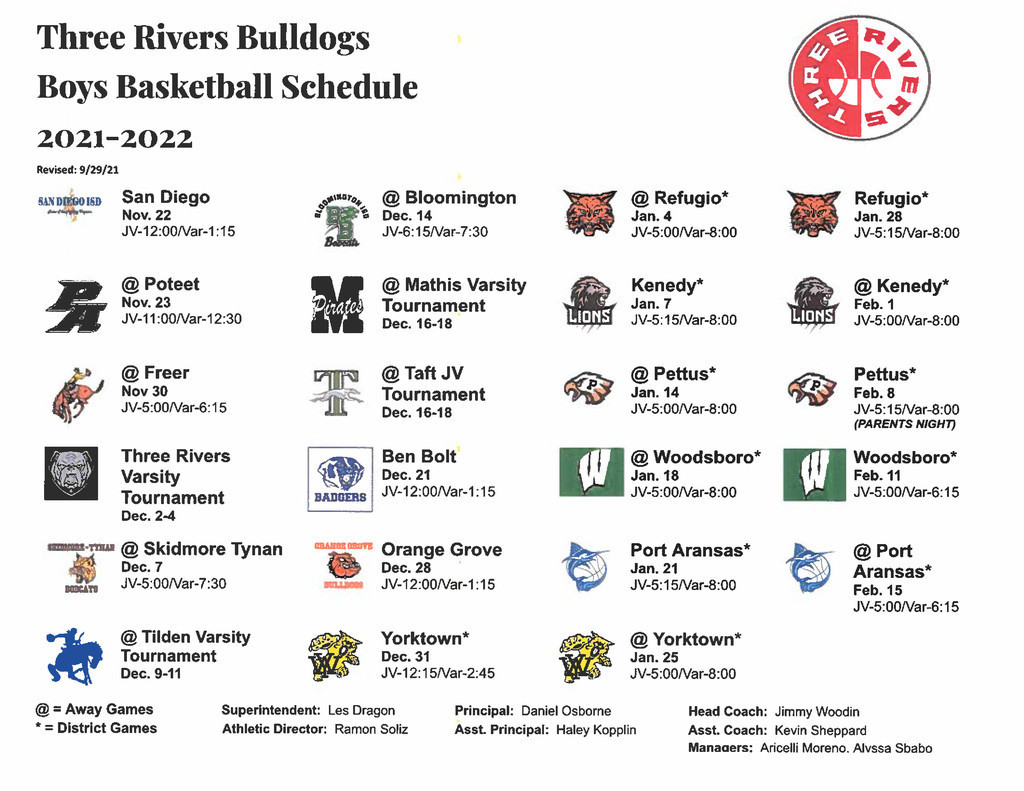 Red Ribbon Week Events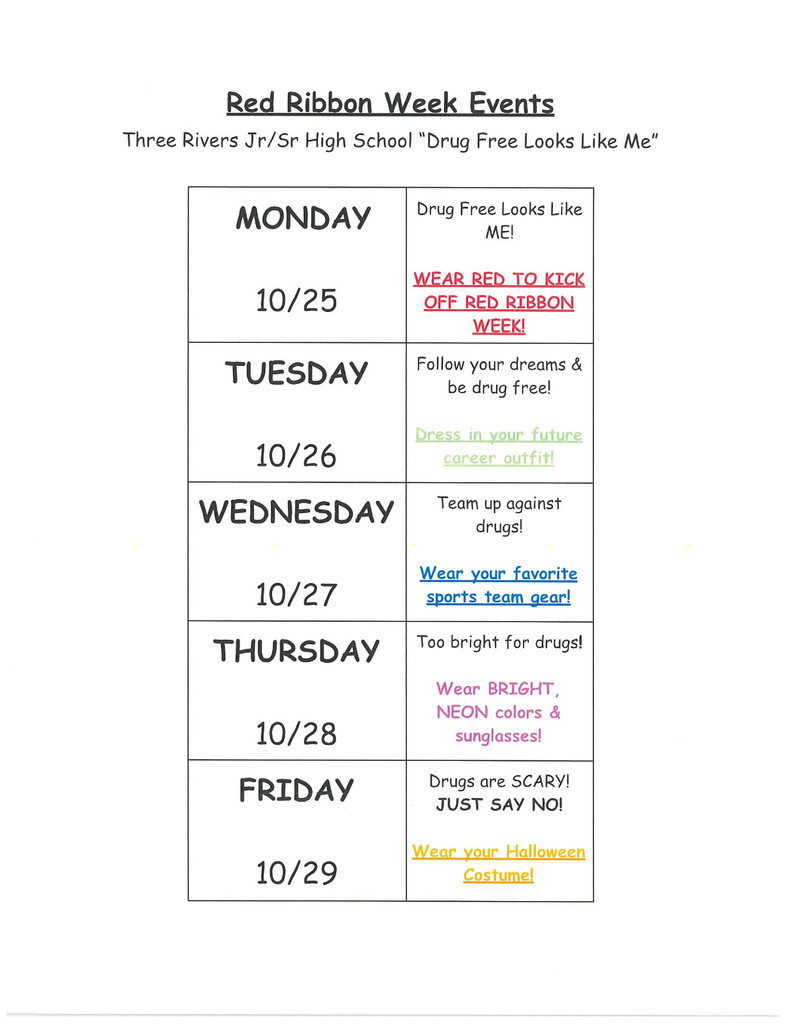 TR Students helping with Coastal Bend Food Bank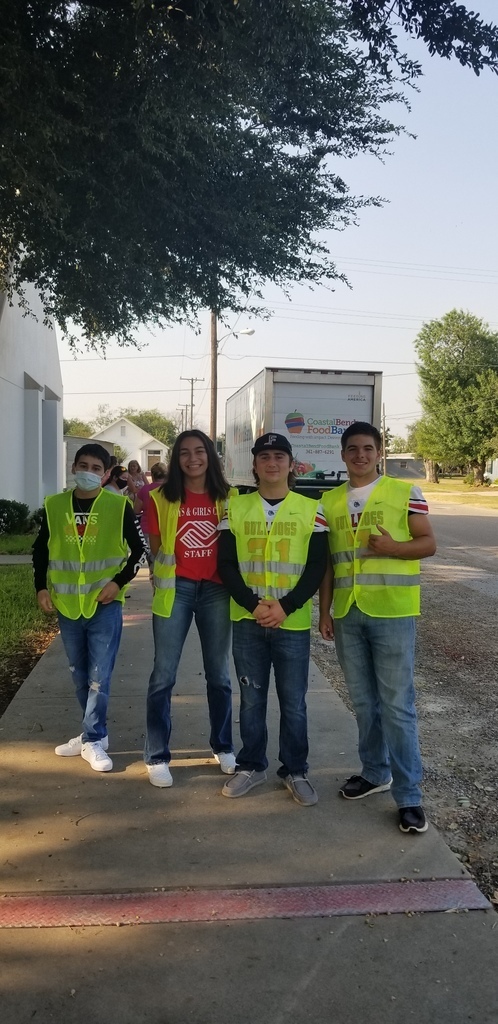 Mr. Luna's English III and IV classes learned about and created haiku poems in remembrance of 9/11/2001.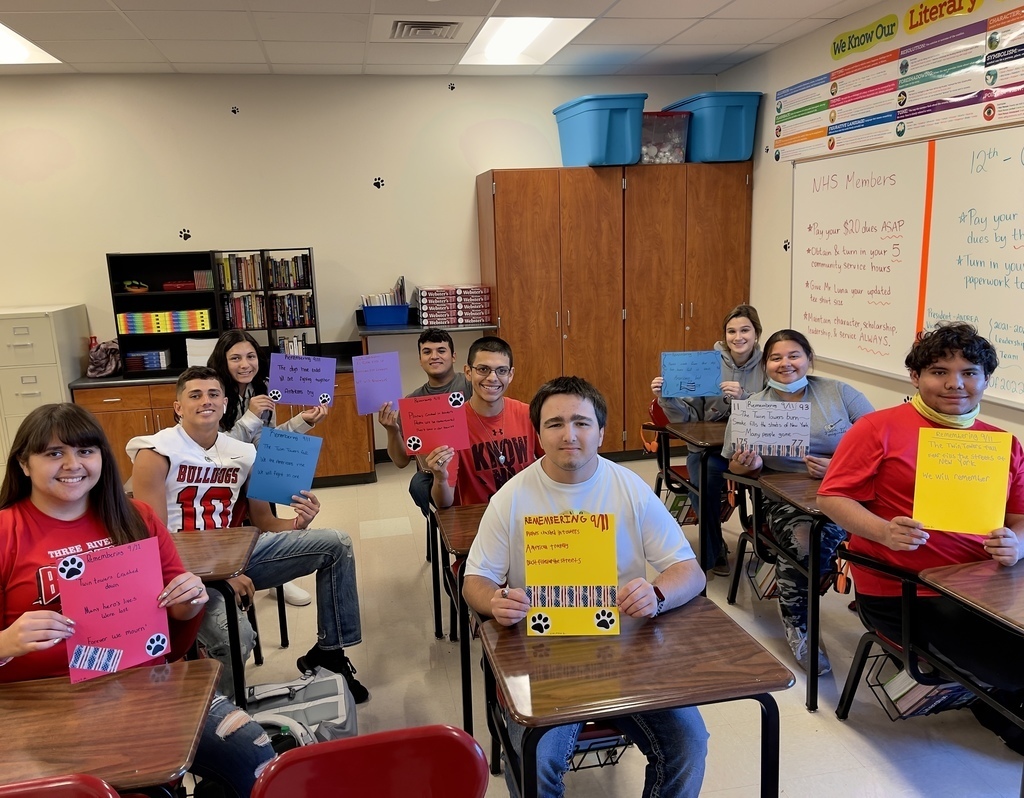 Three Rivers Jr/Sr High School Seniors, Communities In Schools, and Three Rivers United Methodist Church in partnership with The Coastal Bend Food Bank hosted a Pop-Up Distribution this morning to families in need. Items included Meats, Vegetables, Cereal, Sodas, Butter, and non-perishables.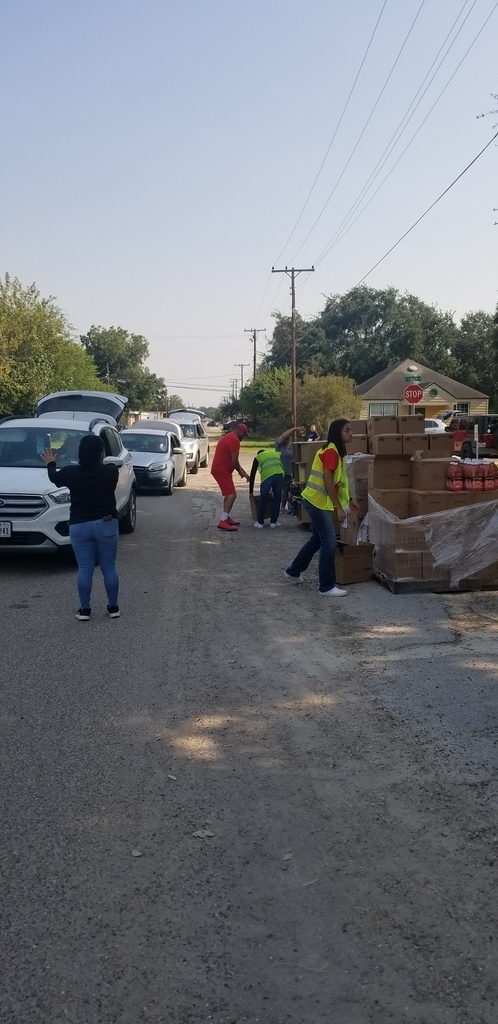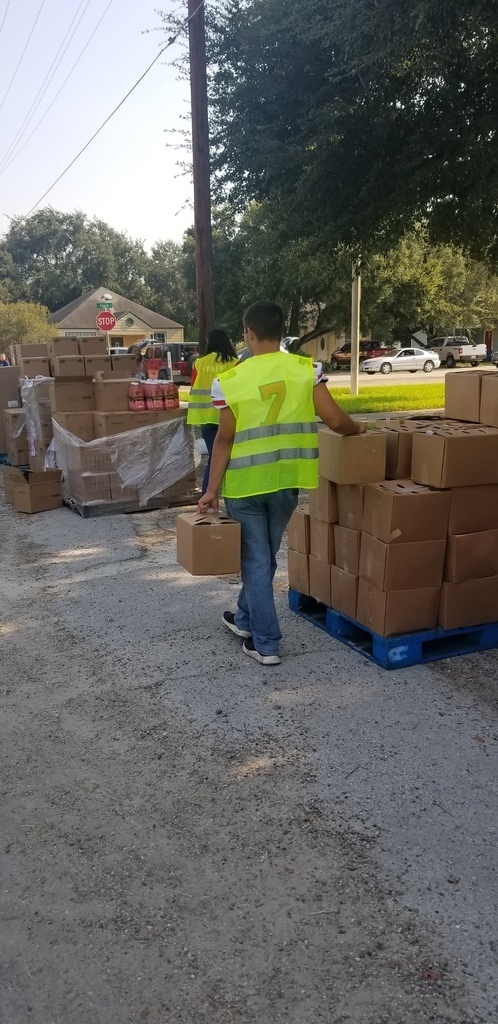 Enrollment and Registration is officially open.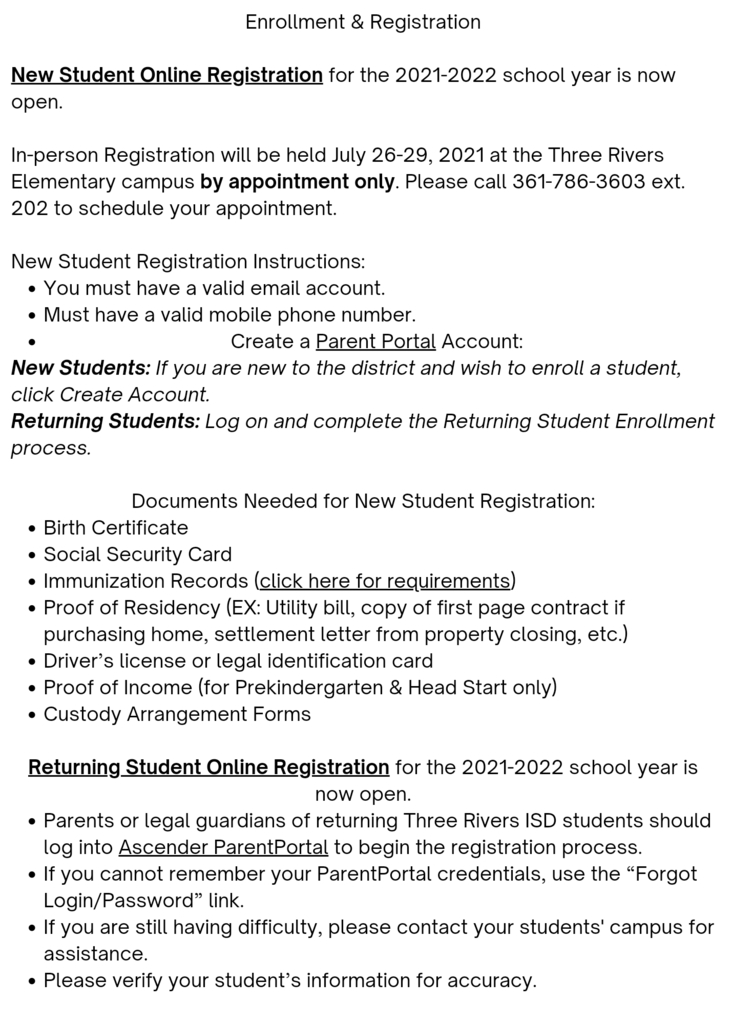 IMPORTANT MESSAGES FOR SENIORS (and senior parents) 1. The senior trip is rescheduled for Thursday. Please meet in the cafeteria at 7:45am. Plan on returning to campus around 6pm. 2. Graduation practice is at 9am on Friday morning. At practice is where students will be able to pick up their tickets for graduation. Tickets will be VERY important because..... 3. Due to the weather we have experienced this week, and are expecting for the remainder of the week, Graduation 2021 will be held in the auditorium. With a chance of rain looming for the next couple of days we wanted to err on the side of caution.

FINAL EXAM SCHEDULE Wednesday, December 16, 2020 8:05-8:15 am 1st period 8:20-8:30 am 3rd period 8:35-8:45 am 4th period 8:50-9:00 am 5th period 9:05-9:15 am 7th period 9:20-9:30 am 8th period 9:35-11:00 am 2nd period FINAL 11:05-12:30 pm 6th period FINAL Thursday, December 17, 2020 8:05-9:30 am 3rd period FINAL 9:35-11:00 am 5th period FINAL 11:05- 12:30 pm 7th period FINAL Friday, December 18, 2020 8:05-9:30 am 1st period FINAL 9:35-11:00 am 4th period FINAL 11:05-12:30 am 8th period FINAL

The blood drive is today starting at 9AM at the Jr/Sr High School!

Three Rivers ISD would like to communicate that the secondary campus has its second positive COVID student case. We were notified late yesterday. The student is recovering at home in quarantine. The Live Oak County Health Department has been notified, and the building was thoroughly cleaned afterwards. If you have any questions, contact campus administration, Nurse Ernest Means, and/or the Live Oak County Health Department. We will continue to keep our community updated to the best of our ability.

Just a reminder to look your best for picture day tomorrow, Nov. 12!

Pep Rally on Friday followed by early release!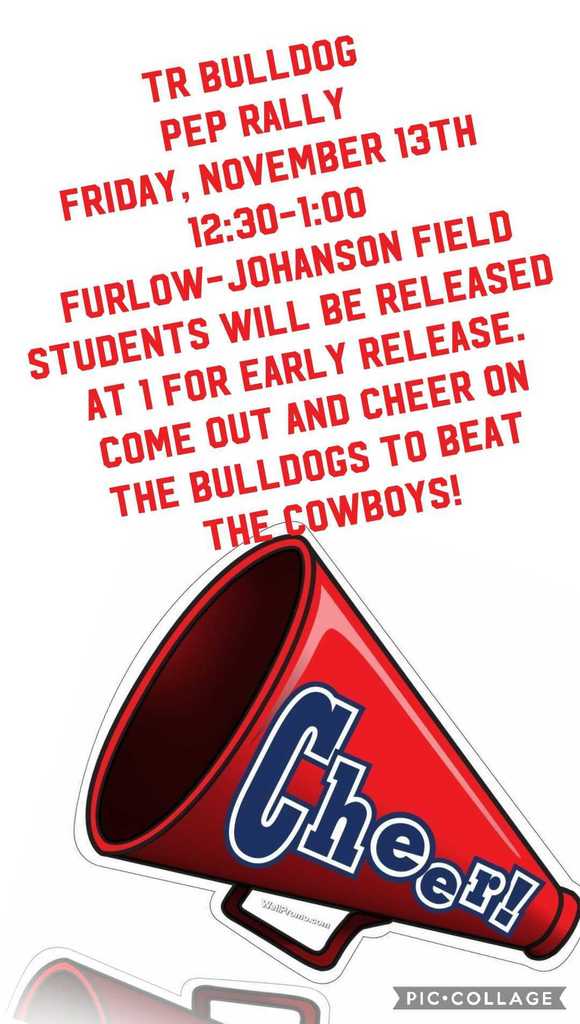 Blood Drive at the High School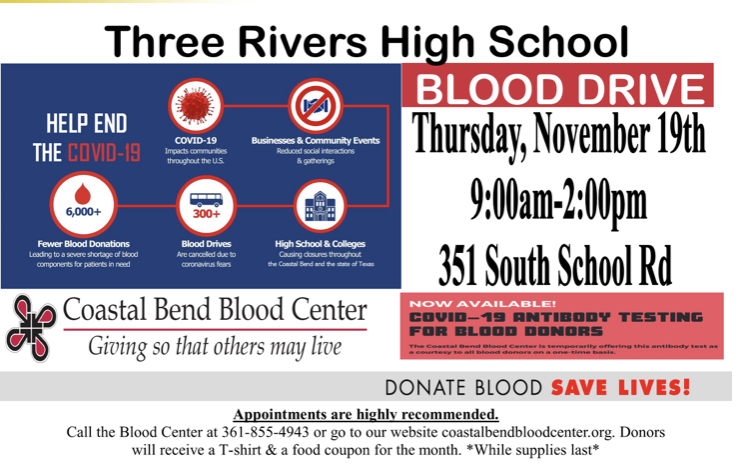 Veteran's Day Program Info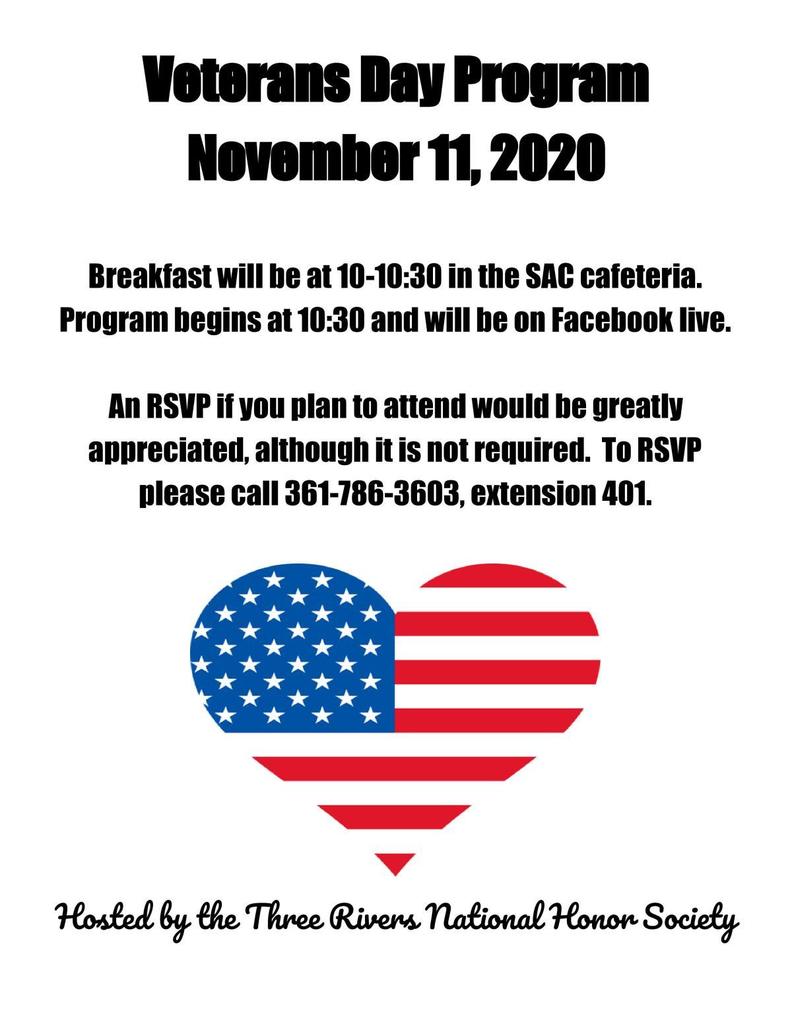 Let's all show off that Lady Bulldog pride tomorrow and support our girls headed out to Floresville to play Sabinal! Game starts at 6:30 in Floresville, gates open at 6:00. If you would like to ride the fan bus, please sign up in the front office by the end of the day today. Bus departs at 4:30 from behind the bandhall.

Flu Vaccines are here! If you have a child that is in need of a nasal spray flu vaccine please see the following form by clicking on the link.
https://tinyurl.com/y4xrw6dm

Today wear your craziest socks! Tomorrow wear your favorite team jersey for Red Ribbon Week!

TRISD would like to congratulate our new NHS members who were inducted yesterday evening! We are so proud of you all. Our 2020-2021 Three Rivers National Honor Society Members include: 12th Grade: •Hailie Council (President) •Kyndall Gonzales (Vice President) •Juan Zermeno (Secretary) •Aime Valdez (Treasurer) •Lianna Ureste (Historian) •Larysa Fuentes •Allynee Hernandez •Hannah Holmes •Isabelle Lopez •Taylor Stockton 11th Grade: •Kacee Bednorz •Armando Cruces Torres •Zachary Davis •Sadie Desselle •Antonio Garcia •Jose Torres Grimaldo •Kolter Hughes •Brooklyn Lamprecht •Madison Lindsey •Keled Martinez •Gustavo Riojas •Andrea Valdez Advisers: Mr. Luna & Mrs. Braune

Red Ribbon Week! Today is camouflage day! Tomorrow wear sunglasses to shade out drugs!

Congratulations to TRHS alumnus and future sailor, Christopher Rodriguez. He enlisted in the United States Navy as a machinist mate. Christopher leaves for basic training this week. Thank you, Christopher for making us TR proud and serving our country!🇺🇸